Marco Pierre White was the chef who cooked like an angel, looked like a rock star and changed the way the world thought of British food. Rachel Cooke meets him on the 25th anniversary of his game-changing cookbook White Heat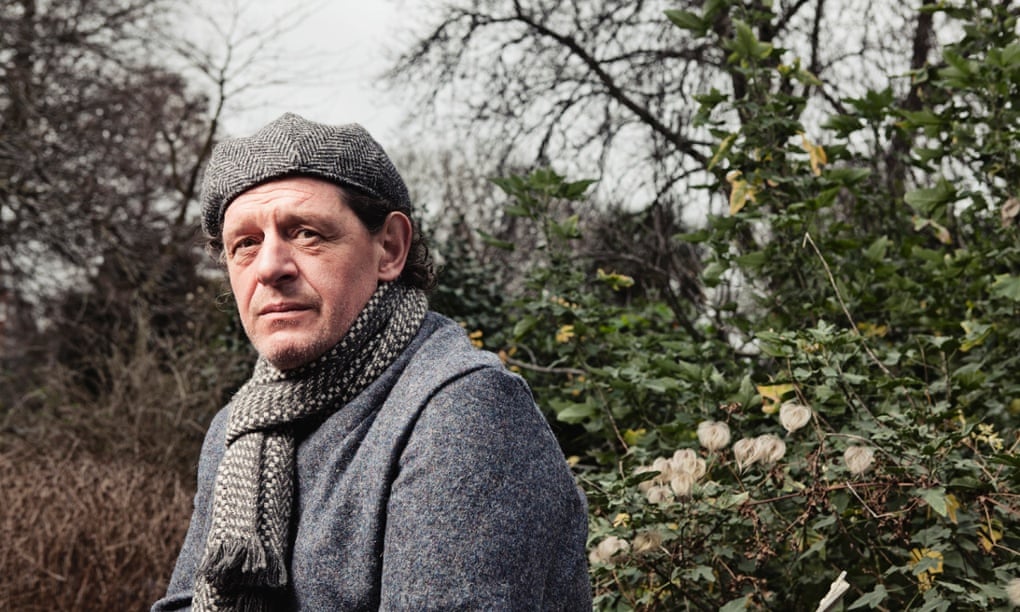 Why does Marco Pierre White want to be interviewed on Bibendum's terrace, by which I mean: outside, in the freezing cold? At first, I assume it's because he wants to smoke. But this can't be right because, as things turn out, he won't have a fag until we're saying goodbye. More likely, then, it's just that he's rather proud of his outdoor garb: a tweed jacket and matching cap, worn backwards over his still ebullient curls. White, whatever he says to the contrary, has always been madly image-conscious; it's possible that he thinks this look will help him to be seen as a man who's happier on a Wiltshire river than stalking the paparazzi-thronged streets of Chelsea.
I've long since learned not to take anything White does, or says, too seriously, for he's nothing if not paradoxical. I last met him before he gave up cooking – he walked away from his stove in 1999, having handed back his three Michelin stars – when he was still installed in the airless confines of the Hyde Park Hotel in Knightsbridge, and I remember all too well the weird mafioso-speak, the nonsensical aphorisms, the endless contradictions. Two decades on, has anything changed? No. He's less inclined to hammy tantrums than of old, and he sounds posher, too. But in other ways, he has calcified. The cadences of his speech are more biblical-sounding than ever, his logic more elusive. He remains obsessed with his Italian-born mother, who died of a brain haemorrhage when he was six, and he is still prone to talking about his working-class roots, for all that it's almost 40 years since he left his father's house in Leeds (he is 53).
We're meeting to talk about the 25th anniversary edition of White Heat, the classic cookbook of his youth, in which the young Marco appeared looking like something out of Caravaggio in a series of black and white photographs that were taken at his celebrated Wandsworth restaurant, Harveys, by Bob Carlos Clarke (the 21st-century version of the book comes with some previously unseen photographs, plus tributes from mentors, admirers and acolytes such as Mario Batali, Anthony Bourdain, Raymond Blanc and even Gordon Ramsay, the protege with whom he so famously fell out). However, he's only here because he feels a sense of responsibility both to his publisher and to Carlos Clarke's daughter, Scarlett (Carlos Clarke killed himself in 2006). About White Heat itself, he has no feelings at all – or none to which he's willing to admit.
"It doesn't mean much to me," he says. "It's not important. It's a part of my life that's been and gone." But this can't be true. All that talent, all that fame; without it, he wouldn't, for instance, be the face of Knorr stock cubes – a job to which his attachment is so fierce, I can only imagine the size of the salary. White stares at me for a moment, trying hard either to look scary or philosophical, I can't tell which. "When I see those pictures [in White Heat], I just see that I was very unhappy and in great pain. That's the only emotional impact it has on me today. Work was a painkiller; it was where I hid. I was very young, and all of a sudden one day the world descended on me. Today, I turn down 90% of interviews. It doesn't do anything for me. I don't like London. I'm not happy here. I don't even own a flat here. I live in Wiltshire with my beehives and my orchards and my dovecotes, and I'm much happier. I have my hens and my guinea fowl and my geese. You'll never see me at award ceremonies."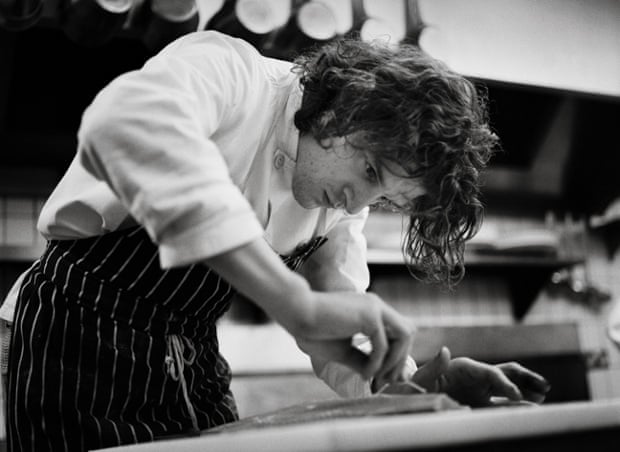 Those who saw him cooking with so-called celebrities in ITV's Hell's Kitchen eight years ago, or fronting Channel 5's Kitchen Wars in 2012, will find it difficult to believe in this newly discovered introversion – and besides, as he's about to tell me, he is currently the star of MasterChef Australia. He has also signed a deal with Harvey Weinstein for a "new TV format" in the US, and continues to hope that his autobiography White Slave, the rights to which he sold some time ago, will become a film; he recently had dinner with the actor Michael Fassbender who apparently has first refusal to play him. Even his fervent loathing of London seems a touch suspect to me. A cursory Google reveals that he's often up in town visiting his on-off girlfriend, Emilia Fox, the star of Silent Witness. (The Daily Mail recently pronounced their affair to be over, but he strongly hints to me – "you have your own opinions about the Mail" – that this is not the case.)
"I have to earn a living," he harrumphs, when I quietly point all this out. "I hate filming but it's an evil necessity." But surely the greater part of his living comes now from his sprawling business interests? (He owns, among other things, the brand names of the chains Wheeler's and Frankie's, and is in the process of revamping a hotel near Bath.) "I don't run my business," he replies. "The chief executive runs my business." So what part does White play? "I do all the designs."
And the chief executive signs those off? "No. The chief executive doesn't know what I do, so how can he tell me what to do?"
But he must know; surely that's his job, if he's the chief executive. "No, he doesn't."
Are his businesses merely about making money, or does White genuinely take pride in what they offer? Because it's sometimes hard to believe that the menu at Frankie's was born of the same mind that gave us the sublime tagliatelle with oysters and caviar he once served at Harveys. "I have a duty to create security for my family." So they are mostly about making money? "I'm not selling gastronomy. I'm selling a night out."
Is he rich? "What's rich? You can't measure a man's wealth by money. It's inside him."
We could on like this all day. So let's instead go back to the beginning, to the glory days, when his cheekbones were like geometry and half of London was desperate to travel to Wandsworth – he opened Harveys in 1987, aged 25, on the back of a £67,000 loan from the Yorkshire Bank in Sheffield. But before I can even open my mouth, he's shooting me down. "This is the truth. I never chose to be a chef. That wasn't my want. I came from very humble beginnings,. I finished school on the Friday, and I started work on the Monday, in the profession of my father, uncle, grandfather and brothers. That was what working-class boys did: they entered a trade. Catering was full of girls and boys from the working-class world. You came from one tough world to another tough world. I just did what my father told me."
But the difference is that he wasn't content to spend his life opening catering packs of gravy powder. He set the world alight. He went to the Box Tree in Ilkley and then to Le Gavroche, La Tante Claire and Chez Nico until, finally, at the age of just 33, he became the first British chef to be awarded three Michelin stars (he won his first two aged 28 and, at the time, was the youngest chef to achieve such an accolade). A whole generation of chefs worked for him – Gordon Ramsay, Philip Howard, Stephen Terry – or were inspired by him. He changed the landscape. "Well, I had a wonderful mother," he says, as if this explains it all. "What she gave me was extraordinary. I remember her making toys and patchwork quilts. But the people who gave me Michelin stars had less knowledge than me. You have to place a value on something that is given to you: that's why it was so easy for me to walk away. They had no value for me." But they must have meant something. "Not really. I was rather confused."
His engine was – he's adamant about this – low self-esteem. "You question things that are given to you. You don't feel good enough. I became semi- depressed. I lost my way. I came from the old world, the tail end of Escoffier's world. I remember Mr Brown, the inspector of Michelin. The day I won my three stars, he said: 'Marco, never forget what made you great.' What he was saying was: 'Stay behind your stove.' I respected that. The day I no longer wanted to be behind my stove, I put my hands up and said: 'I'm out of here.' It's all or nothing with me. I could not live a lie."
I want to talk about some of his most famous dishes: the aforementioned tagliatelle, once tasted, never forgotten; the ravioli of lobster with beurre soy sauce; the braised pig's trotter à la Pierre Koffmann. But all he will say is: "I crave the ordinary." Does he ever visit talked-about new restaurants? Definitely not. "They serve what I call conveyor belt cuisine: 18 courses, and all of them tepid. I want my food to be hot. I want to smell food when I walk into a restaurant. I don't want to be dictated to, or patronised. They ask you if you enjoyed it! We had a house policy: never ask a customer if they enjoyed a dish. Let them give back only the truth. It's not about sitting there for three hours. I get bored after an hour. I want to go home to bed at ten." Part of the Marco legend is that he won his Michelin stars without ever having visited France. Has he been to the Tour d'Argent and all the rest since he retired? "No. I still haven't dined in a Michelin-starred restaurant in France. There's a part of me that wants to go. But I kind of like it being a dream. I've always been a romanticist." What will he eat when he arrives back in Wiltshire this evening? "My favourite dinner is a cup of tea and a ham sandwich with English mustard."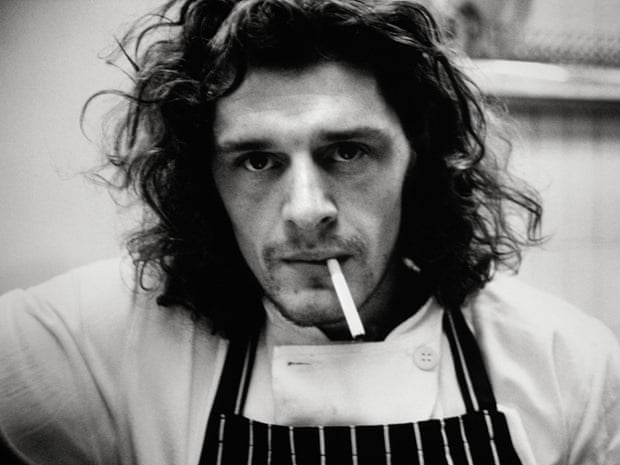 I wouldn't say that White seems happy, for all that he keeps insisting that he is ("I'm not angry," he says, when I remark on how cross he seems. "I've never been angry in my life. I'm just being honest.") But I suppose some things in his life have been resolved. His father, from whom he was estranged for many years, died in 1997, but by then they were "very much" reconciled: "The day I stopped fearing my father was the day I could enjoy him." Was his father proud of him? "I don't know. He was Victorian. He never came to any of my restaurants. He didn't understand what Michelin was: they made tyres."
He and his third wife, Mati, remain estranged, and their relationship, so far as I can tell, is still periodically fiery. But he has managed to stay close to their three children (Luciano is 20, Marco is 19 and Mirabelle is 13; he also has a daughter, Letitia, by his first wife). "I've just finished planting an orchard for Mirabelle. One day, she will walk through what her father made. I gave her it out of love."
For a while, we ponder the ghostly map it's possible to trace across London using his old restaurants – Harveys, the Canteen, the Oak Room, L'Escargot, Mirabelle, the Criterion, Drones and all the others – as staging posts. "If you own something, one day you will sell it, or it will be taken away from you," he remarks, sombrely. "Nothing is forever." But then … uh oh … here it comes. We arrive at the important subject of Knorr stock cubes. "I hope you use them," he says, looking suddenly beady. Actually, I tell him, I don't. I favour something a little, well, classier. "Marigold?" he barks. No, I say, they're called Just Bouillon, though – ha! here's my trump card – mostly I make my own stock.
You might expect a professional chef to be cheered by the thought of a regular person boiling up bones the old-fashioned way. But not, it seems, Marco. "It's very hard to make proper stock at home," he instructs. "You haven't got the pans."
But my pans are just fine, and at least homemade stock isn't fluorescent yellow, as stock made from cubes tends to be.
"OK, you're posher than me!" he shouts. "I'm just a council-house boy. But then, I look at the flavour, not the colour."
Well, er, I don't much like the flavour of stock cubes much, either.
"All I'm saying is: add a stock cube to whatever you're making, just for the body. That's all. OK? OK?"
OK, Marco, I whimper – though I'm also thinking how very odd it is to be arguing about stock cubes outside one of the best restaurants in London, and why can't we just go inside and have nice big plate of truffle risotto?
And then, like boiling water suddenly removed from the gas, he is becalmed.
"Shall we move on?" he says. He sticks his glasses on the end of his nose and peers at the tiny screen of his ancient Nokia. His manner is so hilariously disdainful, I can't help feeling that it's not a Michelin star he's missing, but an Oscar.
White Heat 25 (Mitchell Beazley, RRP £25) is published on 2 February. Click here to buy a copy from the Guardian Bookshop for £20, with free UK P&P.
Photographs of Marco Pierre White by Bob Carlos Clarke is at The Little Black Gallery, London SW10 0AJ from 10 February-10 March