Turbot powered? Motorway stop offers catch of the day to drivers
Fresh fish and homemade food on offer to customers at Gloucester services on M5, rather than usual collection of burger and coffee franchises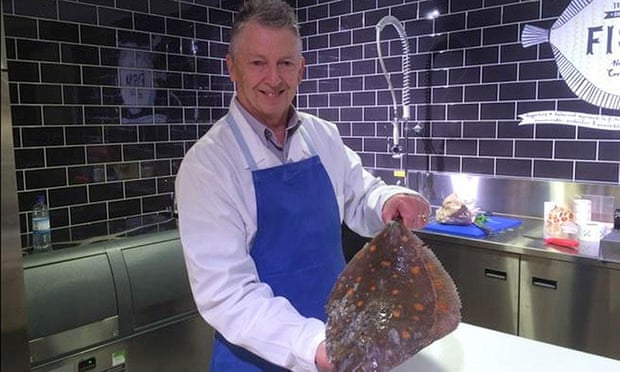 The orange-dotted plaice gleams, the scallops look plump and delicious, the gurnard is so fresh it appears to be swimming through the ice. But it's not the counter of a high-end city pop-up eatery or a trendy seaside restaurant. Rather this is – so it is claimed – the world's first motorway fishmonger.
A few hundred metres away traffic is trundling along the southbound carriageway of the M5. Here at the newly minted Gloucester services, fishmonger Francis Phillips is preparing to welcome his first customers.
"I feel there's real scope to reinvent the fish counter," said Phillips, who ran a mobile fish business from a van for more than a quarter of a century before deciding to drop anchor on the motorway.
Many of his old regular customers have said they'll make a special trip to the services – which opens on Tuesday – to buy the fish he used to deliver to their door.
But Phillips, who at 67 came out of retirement for this new job, believes other travellers, from commuters to holidaymakers, will also be tempted by his wares. "It is an experiment but an exciting one," he said. "I think people will relish the chance to buy fresh fish here."
The idea is not as off the wall as it might seem. The company behind this service station – the Westmorland Family – made its name by running the hugely successful and beloved Tebay services on the M6, in Cumbria, featuring a well-stocked farm shop and home-cooked food.
Last year, it opened the first Gloucester services on the northbound carriageway, vowing to turn it into a foodie destination rather than simply a place to stretch the legs and grab a quick burger. 
Since then it has served more than half a million locally sourced meals. Its cafes and shop have worked with 130 producers, mainly small scale, from within a radius of 30 miles and another 70 from across the south-west. It says it has placed food orders worth £1.5m with local food producers.
Many a weary traveller expecting franchise fast-food has been impressed by the handcrafted snacks, bread and cheeses – and the chance to buy fresh meat from a proper butcher's counter.
Now, southbound travellers are being offered the same facilities – and can also pick up fish caught in the north-east Atlantic and landed in Cornwall the previous day. On Phillips' first fish counter was turbot, lemon sole, cod loin, monkfish tail. A lot of hake is being caught off Cornwall at the moment – and Phillips has plans to have some of it smoked. "That will be an unusual one," he said.
There are believed to be fewer than 1,000 specialist fishmongers in Britain now, many having shut because of pressure from the supermarkets and changing tastes. 
But there are signs that the fishmonger is making a comeback, in some places at least. "Lots of shoppers don't know or appreciate native species like Cornish sardines, ling or pollack," said Phillips. "There's a genuine opportunity to re-educate the public to cook and enjoy fish from British waters."
Sarah Dunning, the CEO of Westmoreland, said the introduction of butcheries at Tebay and Gloucester northbound raised eyebrows but proved a huge success. "Reviving the format of a traditional fishmonger is a natural progression of this thinking," she said.
However, Dunning does not think the giants of motorway services will follow suit any time soon. "They are doing a different thing to us. Their skills are focused on property and finance, working alongside franchises. They are not about produce."
She sees lovely services on motorways in France, Italy, Switzerland – but, even there, no fresh fish counters. It seems an unlikely claim to fame but Westmoreland says it has not been able to find a motorway fish counter anywhere in the world.
"But why shouldn't you be able to pick up fresh fish on your way home from work or on your way to a holiday cottage?" asked Dunning.