We have been eating chicken wings for over 50 years in the U.S. If you're following my, "AmazeWing" Adventure, you know how I feel about the staple flavors that you can find at almost every pub and wing hut in America. Honey BBQ, Honey Mustard, Teriyaki, Thai Chili and Garlic Parmesan. It's getting old, no, scratch that, they are way old. Before you feel that Internet rage and skip to the comments section below to rant and rage as if I'm not a real person with "FeelWings," know that I, too, love these mainstay flavors and hold them dear to my stomach. However, the most exciting thing about being in a wing boom, is all the new styles and flavors that are coming about. Not only is it long overdue that we go beyond these old school flavors in the common place, it's time to explore all the nom-tastic possibilities that can occur in the chicken wing world.
Here are 5 wing flavours that will rock your face!
1. Chicken Parmesan Wings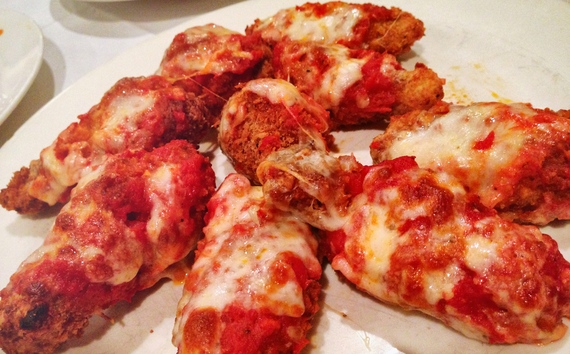 If pizza and chicken wings danced in a seasoned storm of panko breadcrumbs and were baked to perfection, this would be the result. This simple but addictive wing is something I found at The Wander Inn of Baldwin, N.Y. While they serve on-the-money classic Buffalo wings, they are an Italian restaurant with a 50-year long legacy of great food and tradition. It's no wonder these taste like your nonna made them with lots of love and pinched your cheeks while you were chewing.
2. Tikka Masala Wings
The rich, creamy and buttery sauces of Indian food is so prime for chicken wings, it's not even funny. Ever since the '90s, Indian food has sprung into cult popularity. It was only a matter of time before the secret got out. Give me Korma wings and Hot Vindaloo wings too! My suggestion though is to give them a name like "spicy butter wings" to reel in the average wing lover, so you don't get that cliche, "I don't like curry" knee-jerk response, when Indian food comes up. These wings are bangin'!
3. Cinnamon Toast Crunch Wings
Shannon Donadio from Brickhouse Brewery in Patchogue, N.Y., which doubles as a microbrewery, devised the idea for these wings from a Cinnamon Toast Crunch shot with Fireball and RumChata. She simply added crushed red pepper to give it a little kick, cinnamon and some secret ingredients. Paired with a BHB Nitro Stout and some good conversation, these crispity, crunchety pub wings inspire gateway thoughts to dessert wings and breakfast wings alike. Perhaps a golden graham crusted, maple smoked bacon honey wing is in our near future.
4. Chicken Francese Wings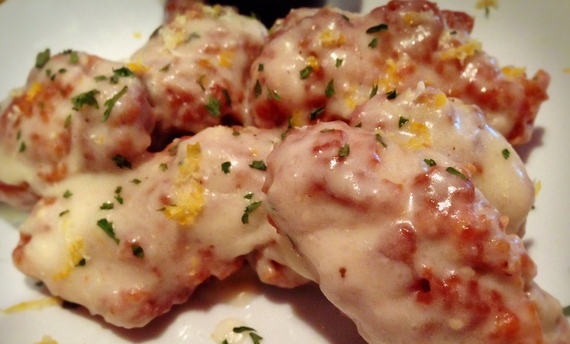 Yes, yes, and more yes! Lemon, butter and white wine sauce garnished with lemon zest and parsley, these wings are just what the wing boom ordered. The answer to the redundancy of garlic parm is this chicken winged version of the Italian classic. While we're on the topic, creamy Alfredo wings or carbonara wings with grilled onions and pancetta would totally rock the cradle of love!
5. Thai Coconut Wings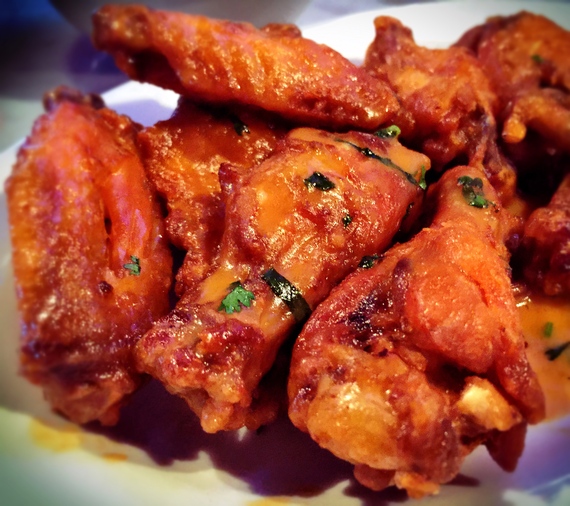 Taking a step into the future is longtime favorite wing and beer haven for New Yorkers, Croxley's Ale House and Eatery. For a long time, Buffalo wings and Honey BBQ was all you could get at their epic 20-cent wing nights. They added new flavors to break the norm and the Thai Coconut is a standout on the menu.